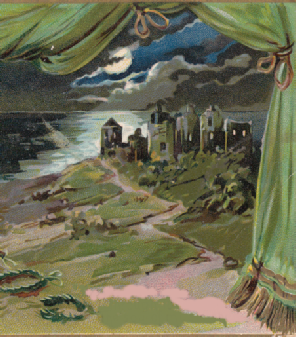 Journey back to a time, long ago, long before your great-great-grandfather's grandfather was born, when the world was filled with enchantment and bedevilment brought about by supernatural entities who dwell within the invisible world 'tween earth and sky; a time when Ireland was so much a place of enchantment and bedevilment that a decent man could hardly poke his nose outside the door of his own cottage without chancing upon spirits and witches and all manner of fairy folk who have the ability to bring either good luck or bad luck to mere mortals such as you and I.
In a tour-de-force performance in which actor and playwright, Mark Lyon, portrays sixteen different roles, "Tween Earth and Sky weaves a magical spell through the dramatization of four Irish tales of the supernatural ranging from the tale of a clever lad's attempt to outwit a leprechaun, to stones which weep tears of regret memorializing a tragic romance between the son and the daughter of two warring Irish clans, to a financially ruined aristocrat who sells his soul to the Devil and a rogue's harrowing journey seeking redemption while a talking corpse clutches tightly to his back.
Lyon has enchanted audiences from Orlando, Florida to Victoria, B.C. (where he was called "a master storyteller" by the Times Colonist) and across the Atlantic in Irish castles and at Ireland's most prestigious literary event of the year, the Listowel Writers' Week Festival, with his original one-man plays as well as having been featured on numerous television and radio programs . He is a member of the Screen Actors Guild, holds a masters degree in Theatre, studied at length in a master class with Lynn Redgrave and was honored to have been chosen to perform with Ms. Redgrave in a special presentation of great moments from Shakespeare at the Louis B. Mayer Theatre.
"He is a master storyteller."
Victoria Times Colonist
"One man, Mark Lyon, a born storyteller and charismatic tenor, carried the audience in his palms with nothing more than a chair, a great voice and a natural aptitude on the stage."
Prince George Free Press